Bridging the gap between high school students and colleges.
College Connect is a free mobile app that connects students with real-time college admission support and resources to help streamline the process of applying to college. The app will allow students to stay up to date on their progress and assist in keeping students on track to achieve their educational goals. Access is available on all devices.
Scan the QR code to download
the College Connect App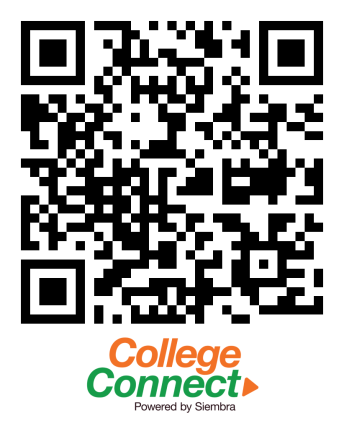 Features of College Connect App
An ability to check the student's progress to college or career choice.
Matches student interests to a degree or certificate for employment.
Allows students to stay in touch with college and career counselors to help manage their goal progress.
Receive auto alerts for new information on programs and updates to help students through high school.
Frequently Asked Questions
What is the College Connect Mobile App?

It's a mobile platform that updates students on their progress, helps them track their educational goals, and connects students with real-time college admission support.
How can I download the app?
What information will be available through the app?

SBCCD will be able to regularly stay in touch with students and their families to provide vital information about academic programs, financial aid, and critical deadlines.
Do student families have access to the app?

Yes, families can utilize their student's credentials to have access to the app and will have the ability to receive mobile alerts to stay current on their student's success.
Contact

Educational & Student Support Services
550 E.Hospitality Lane,
Suite 200 San Bernardino, CA 92408
Phone: (909) 734-4635

Students can connect with our District Student Ambassador.
Learn More.