Strategic Planning
For nearly 100 years, thousands of students and families in the Inland Empire have counted on the San Bernardino Community College District for higher education, career training, and the opportunity to get ahead. We have changed the trajectory of students' lives, strengthened our communities, enriched our local economy…and we're just getting started. Thanks to the valuable input of faculty, staff, students, alumni, K-12 schools, four-year universities, industry and community partners, this plan embodies our shared aspirations.

Plan Implementation
The next step in the integrated strategic plan process is for the Colleges to update their Educational Master Plans (EMP). Using the SBCCD Strategic Plan as a guide for the creation of College Strategic Directions and Supporting Actions will create alignment across the District.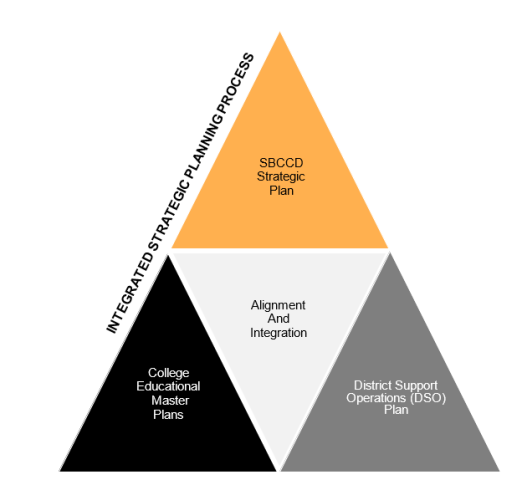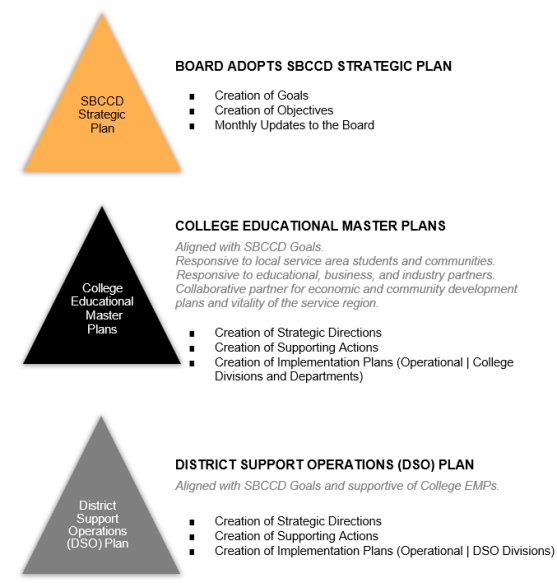 Educational Master Planning Project
SBCCD is in the process of developing its next five-year District Strategic Plan, and Educational Master Plans (EMPs) at its two colleges: Crafton Hills College (CHC) and San Bernardino Valley College (SBVC). The Collaborative Brain Trust (CBT), a national firm serving higher education institutions, has been engaged to facilitate and provide educational master planning services to support the work of the colleges. The CBT team is working with the District and each college's EMP Committee (EMPC) in the process. Each college's EMPC represents all areas of the College, and the committee make-up represents all constituent groups across the college.
Phase I – December 2021 - May 2022, Discovery: Data Collection, Analysis, and Synthesis
March 14, 2022 - DSO Kickoff Meeting (agenda)
March 15, 2022 - CHC Kickoff Meeting (agenda)
March 15, 2022 - Project Update
March 16, 2022 - SBVC Kickoff Meeting (agenda)
April 5 - 6, 2022 - DSO Site Visit, Unit Interviews & Listening Sessions (schedule)
April 15, 2022 - Project Update
May 2, 2022 - CHC and DSO to launch internal survey
May 9, 2022 - SBVC to launch internal survey
May 11 - 12, 2022 - Site Visits, Unit Interviews & Listening Sessions
May 15, 2022 - Project Update
Phase II – June 2022 – September 2022, Portfolio Development and Planning Assumptions
June 15, 2022 - Project Update
July 15, 2022 - Project Update
August 15, 2022 - Project Update
September 15, 2022 - Project Update
Phase III – October 2022 – November 2022, Goal-Setting and Recommendations
October 15, 2022 - Project Update
December 15, 2022 - Project Update
DSO Panel and Plan Documents
CHC EMP Committee, Purpose Statement, and EMP Documents
SBVC EMP Committee, Purpose Statement, and EMP Documents