Chancellor's Cabinet
SBCCD is governed by a Board of Trustees and is led by Chancellor Diana Z. Rodriguez in conjunction with a diverse and passionate senior administration team. The Chancellor's Cabinet provides leadership and counsel to help ensure SBCCD continues opening doors of higher education and opportunity for all.
Diana Z. Rodriguez
Chancellor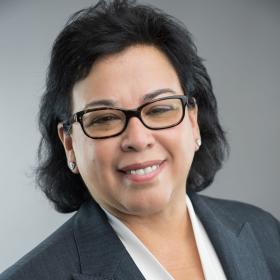 Diana Z. Rodriguez is the 16th chancellor of the San Bernardino Community College District — a system that serves 20,000 students through Crafton Hills College, San Bernardino Valley College, a workforce training facility, and KVCR public radio and television station. As the chief executive officer, Chancellor Rodriguez leads the district's educational enterprise that generates economic growth for the Inland Empire by adding more than $621 million annually to the regional economy. She is the only Latina chancellor of a community college district in Southern California upon assuming office in August 2021. Like many SBCCD students, Chancellor Rodriguez is the first in her family to achieve a college education. She is a proud graduate of Palo Verde College and a transfer student to California State University, San Bernardino, where she earned a bachelor's degree in marketing, a master's degree in business administration, and another master's degree in education. Chancellor Rodriguez previously served as president of San Bernardino Valley College from July 2016 through July 2021. During her tenure, SBVC faculty and staff spearheaded educational strategies to earn the campus the highest level of accreditation — among the best in California. Chancellor Rodriguez has a long and distinguished career of more than 30 years working in higher education as a faculty member and an administrator, advocating for student success and a strong connection to the community. Before leading San Bernardino Valley College, she served as Vice President of Student Services and Interim Vice President of Academic Services at Las Positas College in the Bay Area of California and Vice President of Student Services at Palo Verde College in Blythe. Her accomplishments have drawn several awards, including the 2018 Woman of the Year Award for the 47th Assembly District of California.
Jose F. Torres
Executive Vice Chancellor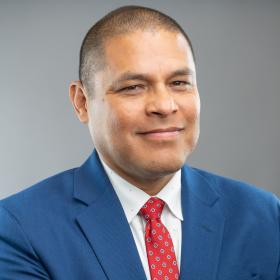 Jose F. Torres is the Executive Vice Chancellor of the San Bernardino Community College District where he oversees a $200 million operating budget that supports the mission of Crafton Hills College, San Bernardino Valley College, and KVCR TV/FM. Torres previously served as SBCCD Interim Chancellor from December 2019 through July 2021, leading the district during the COVID-19 outbreak and through the creation of the SBCCD Safe Reopening Plan. Torres was born in Guanajuato, Mexico, he is the son of a laborer and a housemaid and the youngest of 11 siblings. Torres enrolled at Mt. San Antonio College and became the first in his family to pursue a college degree. With the support of teachers, counselors, and his wife Ati, Torres navigated the community college system and transferred to Cal Poly Pomona, where he earned a bachelor's in business administration and accounting and subsequently earned his master's in public administration from Cal State San Bernardino. Driven by his desire to open doors of opportunity for others, Torres has dedicated his career working on expanding access to affordable housing and higher education. Before joining the San Bernardino Community College District, he served for nearly a decade as vice president of finance at the Housing Authority of the County of San Bernardino. Torres considers being a father one of the most important roles of his life. On weekends, he enjoys coaching and cheering on his daughter Nayah's soccer team.
Kevin Horan, Ed.D.
President, Crafton Hills College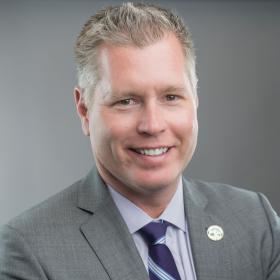 Dr. Kevin Horan is the ninth president of Crafton Hills College. As president, he mobilizes the campus community to achieve its long-range educational and facilities master plan, and promotes the success of 6,000 students and more than 400 faculty and staff members. Horan comes to Crafton Hills College after 13 years with the Contra Costa Community College District, which includes Los Medanos College, Diablo Valley College, and Contra Costa College. Serving as the chief instructional officer of Los Medanos College, Horan focused on student achievement by increasing distance education offerings, implementing guided pathways, and strengthening dual enrollment partnerships with K-12 districts. Additionally, he led the planning and implementation of more than $125 million in bond-funded facilities projects including classroom modernization, technology upgrades, and new satellite campus. Before joining the Contra Costa Community College District in 2006, Horan served as the director of campus affairs at California State University East Bay's Concord Campus, director of student affairs at Samuel Merritt University, and director of residence life/auxiliary services at Holy Names University. Horan earned an educational doctorate in educational leadership from Saint Mary's College, a master of science in college student personnel from Western Illinois University, and a bachelor of arts in government and dramatic arts from Saint Mary's College. When not working passionately on increasing student success and access to higher education, you will most likely find him camping with his wife, Erica, and two children, Sage and Reid.
Linda Fontanilla, Ed.D.
Interim President, San Bernardino Valley College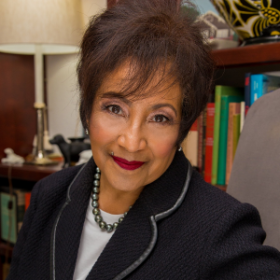 Dr. Linda Fontanilla is an accomplished community college leader who has taken on the role of Interim President at San Bernardino Valley College, starting on January 23, 2023. With over 50 years of experience in the field, she brings a wealth of knowledge and expertise to the San Bernardino Community College District.
Dr. Fontanilla's diverse background includes her time as an air traffic controller for the U.S. Air Force, where she played a critical role in the safe landing of aircraft returning from the Vietnam War era. Additionally, she has served as the executive director of the YWCA Marjaree Mason Center, an adjunct faculty member, and as the Vice President of Student Support Services at Irvine Valley College. During her time at Irvine Valley College, she was an executive committee member of the statewide Institutional Effectiveness Partnership Initiative and now coaches new higher education executives throughout California.
Dr. Fontanilla holds an associate's degree in communications studies from Sacramento City College and an Ed.D. from the University of La Verne School of Organizational Management. With her extensive background and qualifications, she is well-equipped to lead San Bernardino Valley College forward and serve the students and community.
Kristina Hannon, M.A.
Vice Chancellor of Human Resources & Police Services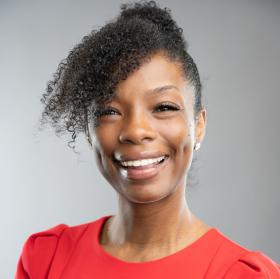 Kristina Hannon is the Vice Chancellor of Human Resources and Police Services. In 2020, she was named Administrator of the Year by the Community College League of California African American Caucus. Hannon brings almost 20 years of experience in education, having served as Executive Director and Director of Human Resources and numerous other roles in K-12 schools and community college districts. Hannon uses her cultural and academic experiences to bring together stakeholders to increase trust and communication across the district and enhance training and understanding of equity, inclusion, and diversity, employee recruitment, retention, and student success. Hannon is committed to being a servant leader and empowering all people to live out their fullest potential. Hannon holds a bachelor's degree in paralegal services from the University of Iowa, a master's degree in human behavior from National University, and is a Ph.D. candidate in psychology with a focus on industrial and organizational psychology from Grand Canyon University.
Nohemy Ornelas, Ed.D.
Vice Chancellor of Educational & Student Support Services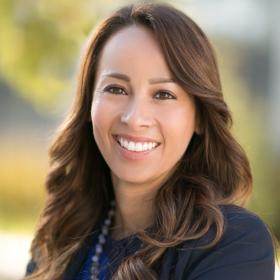 Dr. Nohemy Ornelas is the Vice Chancellor of Educational and Student Services at the San Bernardino Community College District. In this role, she oversees industry partnerships, workforce development, institutional effectiveness, technology services, and programs that help students reach their academic and career aspirations. With a 27-year track record in public service, including 19 years focused on higher education, Dr. Ornelas has been instrumental in crafting equity-driven programs and strategies that have opened the doors of higher education to thousands of students and their families. Dr. Ornelas has played a key role in managing the organizational alignment of SBCCD with its two affiliated colleges, Crafton Hills College and San Bernardino Valley College, in pursuit of a long-range, student-focused strategic vision named "Planning+: Integrated Planning." Moreover, she spearheaded the development of SBCCD's common application system, which reduced institutional barriers for students to apply to both Crafton Hills College and San Bernardino Valley College. As an advocate for increased funding for public higher education, Dr. Ornelas has secured millions in grant funds to bolster student support services, career training, and regional economic growth initiatives. Her contributions to the field have garnered her accolades such as the Future Leaders of America Latino Legacy Award, Cal Poly San Luis Obispo's Honored Alumni, the Pacific Coast Business Times 40 under 40 award, and the Service Award from Santa Barbara County's Commission for Women. As a first-generation college student, Dr. Ornelas's educational journey began in a community college. She completed her bachelor's degree at the University of California, Santa Barbara, obtained her master's degree from Cal Poly San Luis Obispo, and earned her doctorate in education at California State University, Fresno.
Angel Rodriguez, M.Ed.
Associate Vice Chancellor of Government Relations & Strategic Communications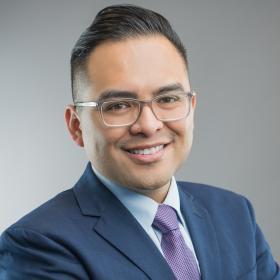 Angel Rodriguez is the Associate Vice Chancellor of Government Relations & Strategic Communications for the San Bernardino Community College District. In this role, he oversees the legislative advocacy strategy, organizes public awareness campaigns, and manages grant administration for SBCCD. Governor Gavin Newsom appointed him to serve on the California Student Aid Commission in 2021, the largest state-run financial aid agency in the U.S., distributing $3 billion in grants to make college affordable to students and their families. Previously, Rodriguez served as the Associate Director of State and Regional Government and Community Relations at the University of California, Riverside, from 2014 to 2016. In 2012, he was Strategic Communications Specialist for a college attainment initiative by the Bill & Melinda Gates Foundation, the National League of Cities, and the City of Riverside Mayor's Office. From 2008 to 2012, Rodriguez held multiple positions at the Greater Riverside Chambers of Commerce, including Government Affairs Manager, Communications Manager, and Community Development Coordinator. Rodriguez is a member of the Civil Rights Institute of Inland Southern California Board of Directors and the Campaign for College Opportunity Advisory Council. A first-generation student, Rodriguez earned a bachelor's degree in public service and political science and a master's in higher education administration and policy from the University of California, Riverside.